Moderator: kosh
Area88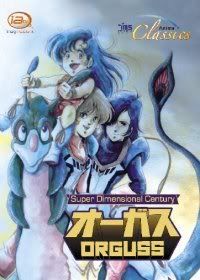 Available to preorder on DVD below:
Orguss - Volume 1
Cat's Eye - Volume 1
Nobody's Boy Remi - Volume 1
Anyone buying these?
---
Posts: 261
Joined: Sun Sep 19, 2004 2:35 pm
Location: Thun, Switzerland
Contact:
I will, but I might be forced to wait for the complete sets, as much as I'd love to support their singles, it just doesn't seem feasable for me considering where I live.
Dr. Mystico: I'll build a private army of super-apes and take over Cleveland!
Cosgrove: Don't you mean the world?
Dr. Mystico: I meant the world, yes. What did I say? Cleveland? Oh, I *always* do that!
---
I'll buy Orguss. But who's Imaginasia?
If you don't like the news then go make some of your own.
---
---
I've never seen a single episode and subtitled is how I watch anime anyways. I'll buy it.
If you don't like the news then go make some of your own.
---
Area88
ImaginAsian are the newest anime company who are dedicated to releasing classic anime on dvd.

The singles and complete collection will be priced exactly the same. Basically the only difference is you get to watch the show sooner if you buy the singles rather than waiting for the boxset. The boxset will be the same packaging as the single releases just with all 8 discs already included.

I recommend supporting them early and buying the singles. It will reassure them to know their titles are at selling as well as they expected. No need to worry about commiting early either, ImaginAsian will be completing all 3 series including Orguss.
---